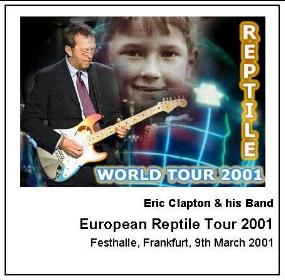 Festhalle
Frankfurt, Germany - March 9, 2001 - CD-R2 - Aud 4

Disc 1:

Key to the Highway
Reptile
Tears in Heaven
Bell Bottom Blues
Change the World
My Father's Eyes
River of Tears
Going Down Slow
She's Gone
Got You On My Mind
Don't Let Me Be Lonely Tonight
Travellin' Light
Disc 2:

Badge
Hoochie Coochie Man
Five Long Years
Cocaine
Wonderful Tonight
Layla
Sunshine of Your Love
Somewhere Over the Rainbow
Comments: Nice clear audience recording. An easy recording to identity, because of some idiot near the taper clapping along during "Key to the Highway." Would be an Aud 5 except for crowd noise. Pity the performance isn't up to the recording - EC pretty much coasts through many of the solos, especially on "Cocaine".