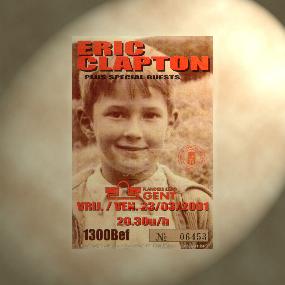 Flanders Expo
Gent, Belgium - March 23, 2001 - CD-R2 - Aud 5

Disc 1:

Key to the Highway
Reptile
Tears in Heaven
Bell Bottom Blues
Change the World
My Father's Eyes
River of Tears
Going Down Slow
She's Gone
Got You On My Mind
Don't Let Me Be Lonely Tonight
Disc 2:

Travellin' Light
Hoochie Coochie Man
Five Long Years
Cocaine
Wonderful Tonight
Layla
Sunshine of Your Love
Somewhere Over the Rainbow
Comments: A beautiful aud rec, only a bit of reverb keeps it from being an Aud 6. Great extended solo on River of Tears, over backing vocals. And a blistering "Layla" to finish things off!