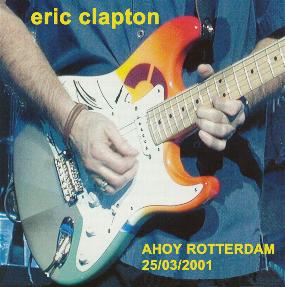 Ahoy
Rotterdam, Holland - March 25, 2001 - CD-R2 - Aud 5

Disc 1:

Key to the Highway
Reptile
Tears in Heaven
Bell Bottom Blues
Change the World
My Father's Eyes
River of Tears
Going Down Slow
She's Gone
Got You On My Mind
Don't Let Me Be Lonely Tonight
Travellin' Light
Disc 2:

Hoochie Coochie Man
Five Long Years
Cocaine
Wonderful Tonight
Layla
Sunshine of Your Love
Somewhere Over the Rainbow
Comments: Excellent audience recording, very listenable and clear. Nice balance of bass and treble, neither boomy nor piercing. Sorry, but the percussion on "Tears in Heaven" just wasn't working. Small spot of diginoise from the master at 1:52 in "Five Long Years", otherwise excellent. One of the better audience recordings from the European leg of the 2001 tour, recommended.