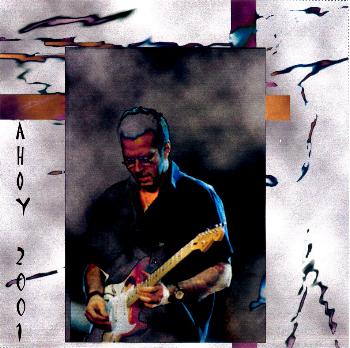 Eric Clapton - The Ahoy
Rotterdam, Holland - March 26, 2001 - CD-R2 - TBA

Disc 1:

Key to the Highway
Reptile
Tears in Heaven
Bell Bottom Blues
Change the World
My Father's Eyes
River of Tears
Going Down Slow
She's Gone
Disc 2:

Got You On My Mind
Don't Let Me Be Lonely Tonight
Travellin' Light
Hoochie Coochie Man
Stormy Monday
Cocaine
Wonderful Tonight
Layla
Sunshine of Your Love
Somewhere Over the Rainbow
Comments: A comment by Ron from the Netherlands:
"that was like the day before a good concert but at one point in the show eric got anoid due to dave sancious, keyboard player who completely lost track in the outtro of Layla. Eric tried to save the song by pointing it out on the guitar but failed and left the stage in anger. for the encore he comes back, plugs in an blows away on sunshine!