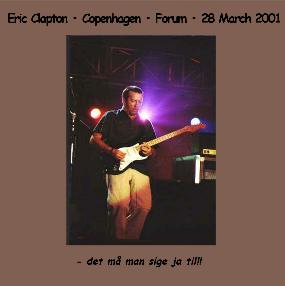 The Forum
Copenhagen, Denmark - March 28, 2001 - CD-R2 - 68:11/55:06 - Aud 5

Disc 1:

Key to the Highway
Reptile
Tears in Heaven
Bell Bottom Blues
Change the World
My Father's Eyes
River of Tears
Going Down Slow
She's Gone
Got You On My Mind
Don't Let Me Be Lonely Tonight
Travellin' Light
Disc 2:

Hoochie Coochie Man
Have You Ever Loved a Woman
Cocaine
Wonderful Tonight
Layla
Sunshine of Your Love
Somewhere Over the Rainbow
Comments: In-freaking-credible outro to Sunshine of Your Love. Recorded on DAT and then tweaked, markedly superior to River of Dreams which was recorded on MiniDisc. Note that the cover art is strangely similar.