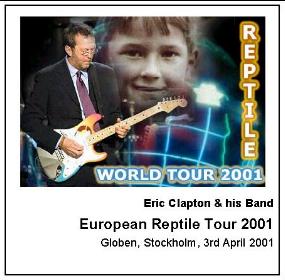 The Globe
Stockholm, Sweden - April 3, 2001 - CD-R2 - Aud 3

Disc 1:

Key to the Highway
Reptile
Tears in Heaven
Bell Bottom Blues
Change the World
My Father's Eyes
River of Tears
Going Down Slow
She's Gone
Got You On My Mind
Don't Let Me Be Lonely Tonight
Travellin' Light
Disc 2:

Superman Inside (w/ Doyle Bramhall)
Hoochie Coochie Man
Stormy Monday
Cocaine
Wonderful Tonight
Layla
Sunshine of Your Love
Somewhere Over the Rainbow
Comments: An easy recording to identify, as it's louder on the right channel than on the left. Recorded on MiniDisc, skips in the master recording flaw an already difficult listen. Use of automatic recording levels should be punishable! Typical MD weirdness in the percussion and cymbals. A difficult listen, save this one for the diehard collectors.