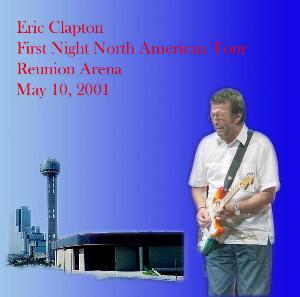 Eric Clapton - Reunion Arena
Dallas, Texas - May 10, 2001 - CD-R2 - Aud 5

Disc 1:

Reptile (incomplete)
Got You On My Mind
Tears in Heaven
Bell Bottom Blues
Change the World
My Father's Eyes
River of Tears
Going Down Slow (incomplete, missing end)
She's Gone
Disc 2:

I Want a Little Girl
Don't Let Me Be Lonely Tonight
Travelling Light
Hoochie Coochie Man
Stormy Monday
Cocaine
Wonderful Tonight
Layla
Sunshine of Your Love
Somewhere Over the Rainbow
Comments: First show of the 2001 North American Tour. The bad news - incomplete, missing the first number and part of the second, as well as the end of "Going Down Slow". The good news - a good, crisp recording, with the guitar very clear and listenable - and a good performance as well!