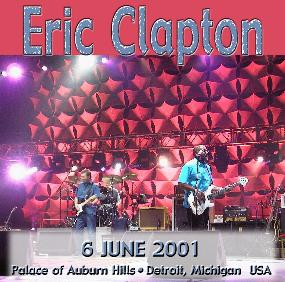 Eric Clapton - Palace of Auburn Hills
Detroit, Michigan - June 6, 2001 - Geetarz 088/089 - Aud 4

Disc 1:

Key to the Highway (incomplete)
Reptile
Got You On My Mind
Tears in Heaven
Bell Bottom Blues
Change the World
My Father's Eyes
River of Tears
Going Down Slow
She's Gone
Disc 2:

Don't Let Me Be Lonely Tonight
Travelling Light
Hoochie Coochie Man
Have You Ever Loved a Woman
Cocaine
Wonderful Tonight
Layla
Sunshine of Your Love
Somewhere Over the Rainbow
Comments: Recorded and mastered by Geetarz: Core Sound SMB > -20db Rolloff > Sony PCM M1 DAT > CD-R.
Review from the Detroit Free Press:

June 7, 2001
BY BRIAN McCOLLUM
FREE PRESS POP MUSIC CRITIC
In what very well may have been the final Detroit show of his career, Eric 
Clapton stuck Wednesday night with what's always come first: making his 
guitar talk.

It was another first-class performance from the veteran British guitarist, 
who at 59 is far from some haggard old rock 'n' roller. At the sold-out 
Palace of Auburn Hills, Clapton was trim, spiffy and stylish, unveiling a 
polished performance that followed suit.

Clapton, who recently announced that this world tour will probably be his 
last, has spent four decades traversing a variety of sonic ground without 
ever straying too far from the raw blues that inspired him in youth. 
Wednesday night he touched on a bit of it all: agreeable contemporary pop 
("Change the World"), raw-broiled soul (J.J. Cale's "Travelin' Light") and 
deep authentic blues, culminating in a late-show slow jam.

Backed by his four-man band, Clapton started the two-hour set seated at 
center stage, easing into an opening round of acoustic fare. He drew heavily 
from his new album, "Reptile," including the whimsical title track and nimble 
"Got You On My Mind."

Much of Clapton's latter-day work -- most notably his easygoing, even sappy, 
contributions to adult radio in the mid-1990s -- ought to come labeled "for 
mature audiences." And early Wednesday, it appeared that was the tone 
earmarked for the night. But seven songs in, Clapton left his chair, strapped 
on his electric Fender Strat and launched into a performance whose intensity 
built as the show moved on.

It turned out to be an exquisitely paced affair, with the sense of timing and 
emotional appeal that comes from a master craftsman who has been working 
audiences since his midteens. Wednesday night, those 16,000-plus fans 
included the guitar purists studiously gazing at the video close-ups of 
Clapton's fingers, the suburban moms lured by such radio-friendly hits as 
"Tears in Heaven," and the teens in their Phish shirts out for a glimpse at 
an icon.

Whatever the show lacked in spontaneity -- and there was a meticulously 
coordinated light show to remind you of that -- it was compensated by sheer 
skill.  Clapton continues to amaze with his selfless feel and phrasing -- Wednesday 
you found it in "My Father's Eyes," with its pair of lovely bent-note solos; 
"River of Tears," with its wash of mournful runs; and "She's Gone," whose 
grimy blues riffing morphed into an electric waterfall of sonic sparks.
Contact BRIAN McCOLLUM at 313-223-4450 or mccollum@freepress.com.