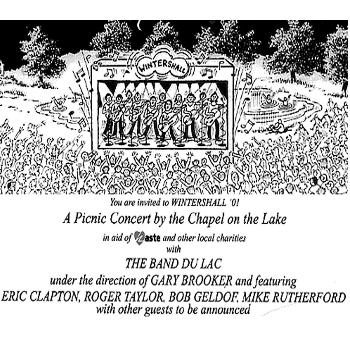 The Band Du Lac - A Picnic Concert ...
Surrey, England - July 7, 2001 - CD-R2 - Aud 3


Comments: An all-star open-air charity concert in aid of HASTE, the Heart and Stroke Trust Endeavour, took place on 7th July 2001 at Wintershall Estate in Bramley, Surrey. Peter and Ann Hutley had opened the ground of their home at Wintershall Estate to an invitation only audience. Gary Brooker was the musical director of the special black-tie charity event, billed as "A Picnic Concert by the Chapel on the Lake". As he did for two similar events in 1988 and 1989, Eric Clapton once again joined the Band du Lac as they were jokingly called because of the stage's location at the foot of the lake.

The show was opened by former formula one world champion Damon Hill's band, followed by Queen drummer Roger Taylor's band, and Bob Geldof. Comedian Rory Bremner then did some amusing impressions before announcing the all-star Band du Lac.

Torrential thunderstorms occurred throughout the evening which concluded with a most impressive fireworks display.

Band members included: Gary Brooker, Eric Clapton, Andy Fairweather-Low, Mike Rutherford, Dave Bronze, Henry Spinetti, Paul 'Wix' Wickens, Sam Brown, and Margo Buchanan.



Visitor Comments: "I have just been going through the wintershall concert line ups from years gone by, i have noticed that on the 2001 gig it was stated that the show was opened by Damon Hill, in fact the show was opened by a band called the Falloons and they played a 20 minute set of Traditional Irish and Scottish music. Jason Falloon, who is the guitarist with Roger Taylor also played in this band. The Concert was started that evening at 5.57pm by The Falloons and were followed by 3 more bands before Damon Hill and the Conrods took to the stage. It is a shame that the lesser known bands who contributed their services free as did all the bands that night, cannot be mentioned in the same line up as the more famous. It is a great event, and I am proud of the fact that i was part of the one of the bands."