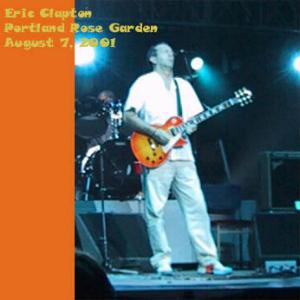 Portland Rose Garden
Portland, Oregon - August 7, 2001 - CD-R2 - Aud 4

Disc 1:

Key to the Highway
Reptile
Got You On My Mind
Tears in Heaven
Bell Bottom Blues
Change the World
My Father's Eyes
River of Tears
Going Down Slow
She's Gone
Disc 2:

I Want a Little Girl
Badge
Hoochie Coochie Man
Have You Ever Loved a Woman
Cocaine
Wonderful Tonight
Layla
Will it Go Round in Circles
Sunshine of Your Love
Somewhere Over the Rainbow
Comments: Probably one of the most unique concerts of the 2001 tour - for reasons unknown EC eschewed his signature model Fender Stratocasters for the electric portion of the set, electing instead to play a Gibson ES-345, and later a Les Paul. Recorded on MiniDisc, there are several small skips in the master recording which are reflected in the CD transfer. A decent, listenable audience recording of a unique performance.