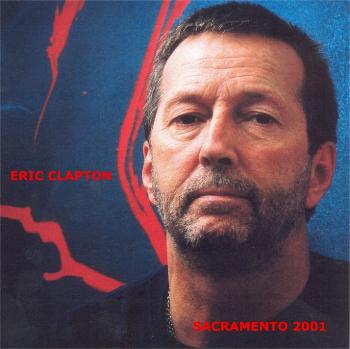 ARCO Arena
Sacramento, California - August 10, 2001 - CD-R2 - SB 5

Disc 1:

Key to the Highway
Reptile
Got You On My Mind
Tears in Heaven
Bell Bottom Blues
Change the World
My Father's Eyes
River of Tears
Going Down Slow
She's Gone
I Want a Little Girl
Disc 2:

Badge
Hoochie Coochie Man
Have You Ever Loved a Woman
Cocaine
Wonderful Tonight
Layla
Will it Go Round in Circles
Sunshine of Your Love
Somewhere Over the Rainbow
Ain't Gonna Stand For It (*)
Comments: Beautiful close-miked ALD recording makes this a really fun listen. Some of the traditional limitations of the ALD source are apparent (mono, limited frequency range, some compression), but those of us who like "in your face" soundboards will love it! Bonus recording on Disc 2 (*) is from the tour rehearsals.

Concert review by Rick Batty:

Another great show. My only disappointment was that Eric played HYELAW again rather than Stromy Monday or Five Long Years. The arrangement, however, was a really slow blues instead of the semi-shuffle from the previous night in Sacramento. So it turned out that the set list was identical to Sacramento (and Portland, I believe). I thought the solo on My Father's Eyes was incredible. It and River of Tears even surpassed the Sacramento versions, in my opinion. Change the World was also super energetic. Bell Bottom Blues got a great reception from the crowd. it was interesting to note that there were 4 songs from the Layla album (Key, Belll Bottom, HYELAW and Layla) and only 3 from Reptile. Of course, also the usual 4 from Pilgrim. Interesting to see Tracy's post about all Gibsons in the electric set in Portland. As I posted yesterday, we got the ES 335 for MFE and River and then the new Strat in Sacramento but Oakand was the new Strat through the whole "standing" set. Again some great keyboard work from Dave Sancious and Billy Preston. The Hammond coming in toward the end of Badge just about blows the roof off the place. Billy also does some nice, different little fills on MFE. Eric loked to be having a great time and I certainly did.