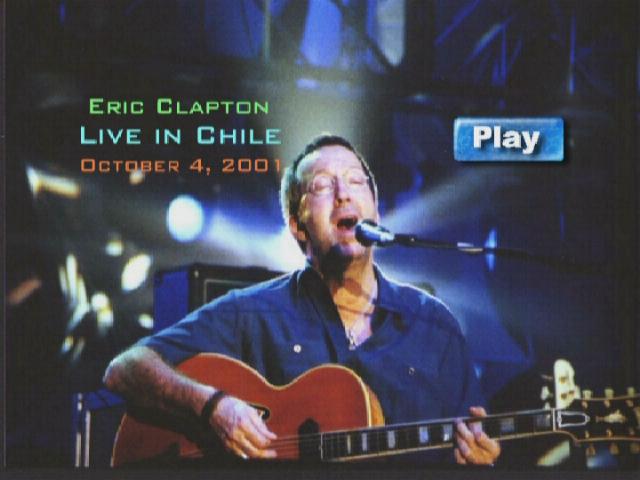 Eric Clapton - Live in Chile 2001
Santiago, Chile - October 4, 2001 - VideoCD - CD-R1

Track List:

Reptile
Tears in Heaven
Bell Bottom Blues
Change the World
My Father's Eyes
Hoochie Coochie Man
Cocaine
Layla
Sunshine of Your Love
Somewhere Over the Rainbow (edited)
Closing
Comments: VideoCD sourced from master VHS from satellite broadcast - excellent quality. In my opinion the best looking of all the TV broadcasts from the 2001 tour, with the stage lighting quite visible and well done camera work. Highly recommended! Also available on DVD.

2001-chile-01.jpg
640x480x16M [35 KB]

2001-chile-02.jpg
640x486x16M [41 KB]

2001-chile-03.jpg
640x486x16M [34 KB]

2001-chile-04.jpg
640x482x16M [25 KB]

2001-chile-05.jpg
640x484x16M [31 KB]

2001-chile-06.jpg
640x484x16M [28 KB]

2001-chile-07.jpg
640x484x16M [28 KB]

2001-chile-08.jpg
640x482x16M [28 KB]

2001-chile-09.jpg
640x482x16M [32 KB]

2001-chile-10.jpg
640x486x16M [31 KB]

2001-chile-11.jpg
640x484x16M [28 KB]

2001-chile-12.jpg
640x484x16M [36 KB]

2001-chile-13.jpg
640x482x16M [30 KB]

2001-chile-14.jpg
640x484x16M [22 KB]
---

Created by CD2HTML (© 1998 by Falk Petro)