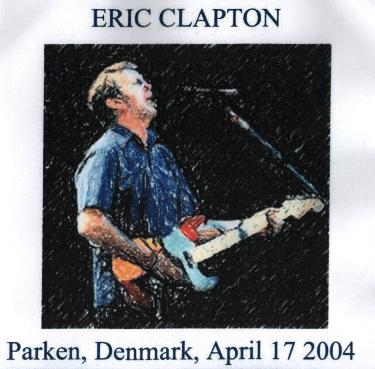 Eric Clapton - Parken
Copenhagen, Denmark - April 17, 2004 - CD-R2 - Aud 4

Disc 1:

Let it Rain
Hoochie Coochie Man
Walk Out in the Rain
Bell Bottom Blues
I Shot the Sheriff
Milkcow's Calf Blues
When You Got a Good Friend
They're Red Hot
Kind Hearted Woman Blues
Disc 2:

Got to Get Better in a Little While
Have You Ever Loved a Woman
Badge
Wonderful Tonight
Layla
Cocaine
Sunshine of Your Love (*)
Got My Mojo Working (*)
Comments: (*) Also features Robert Randolph on guitar. One of the better shows from the first leg of the 2004 tour, a really standout "Walk Out in the Rain", and an interesting, very percussive solo on "I Shot the Sheriff" with lots of hand muting. "Got to Get Better" is performed at a slower, harder edged pace than the uptempo, funky performance found at Belfast. But the real standout song of this show was an unusually passionate "Have You Ever Loved a Woman", which starts off with a gnarly intro, EC pulls out all the stops and seems to use about every trick up his sleeve on this one. Please note that there are (at least) two seperate recordings of this performance, please check disc times and setlists to see which version is referenced.