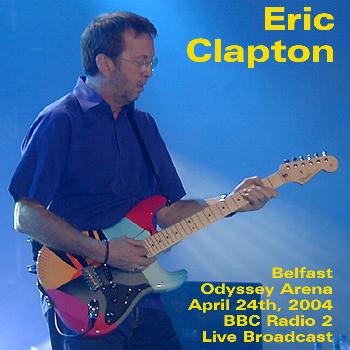 Eric Clapton - Odyssey Arena (DigiSat)
Belfast, Ireland - April 24, 2004 - PHR20040424/3 - SB 6

Disc 1:

Introduction
Let it Rain
Hoochie Coochie Man
Walk Out in the Rain
Bell Bottom Blues
I Shot the Sheriff
Milkcow's Calf Blues
When You Got a Good Friend
They're Red Hot
Kind Hearted Woman Blues
Disc 2:

Got to Get Better in a Little While
Have You Ever Loved a Woman
Badge
Wonderful Tonight
Layla
Cocaine
Outro
Comments: Perfect, beautifully mixed soundboard taken directly from Digital Satellite. Blows away the crappy webcast, there is no comparison. Please note the different reference number on the jewel case art which distinguishes it from the webcast cover art. An Excellent performance!