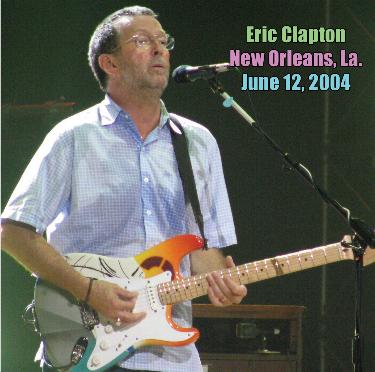 Eric Clapton - New Orleans Arena
New Orleans, La. - June 12, 2004 - CD-R2 - Aud 2

Disc 1:

Let it Rain
Hoochie Coochie Man
Walk Out in the Rain
I Want a Little Girl
I Shot the Sheriff
Me and the Devil Blues
They're Red Hot
Milkcow Blues
If I Posession Over Judgment Day
Kindhearted Woman
Got to Get Better in a Little While (cut)
Have You Ever Loved a Woman
Badge
Disc 2:

Wonderful Tonight
Layla
Cocaine
Sunshine of Your Love
Sweet Home Chicago (with Jimmie Vaughan)
Comments: Billy Preston was not at this show due to illness, and as no replacement was on hand Chris Stainton handled all keyboard duties at this performance. With one band member missing, EC and band all stepped up to the plate and performed a great show. Unfortunately, as is the case so often, the best performances are captured on the worst recordings and this is no exception. Sound quality is quite poor, with a lot of analog tape hiss. Frankly this is below the threshold of what one can listen to for enjoyment alone, and as such this recording is pretty much just for the diehard collectors/historians. As Robert Randolph and the Family Band had a previously scheduled performance at the Bonnaroo Festival, the Jimmie Vaughan not only provided the opening act but joined EC on stage for the encore "Sweet Home Chicago".