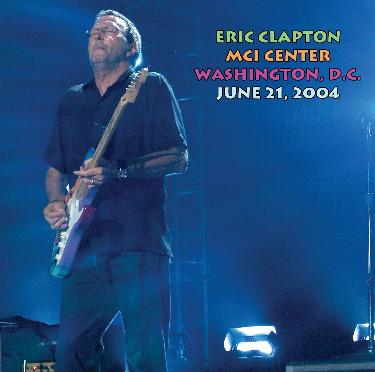 Eric Clapton - MCI Center
Washington, D.C. - June 21, 2004 - Geetarz 105/106 - Aud 5

Disc 1:

Let it Rain
Hoochie Coochie Man
Walk Out in the Rain
I Want a Little Girl
I Shot the Sheriff
Me and the Devil Blues
They're Red Hot
Milkcow Blues
If I Had Posession Over Judgment Day
Kindhearted Woman
Got to Get Better in a Little While
Have You Ever Loved a Woman
Disc 2:

Badge
Wonderful Tonight
Layla - Download crappy mp3 sample
Cocaine - Download crappy mp3 sample
Sunshine of Your Love (with Robert Randolph)
Got My Mojo Working (with Robert Randolph)
Bonus Geetarz Track: Who Gets the Deer?
Comments: Sonic Solutions DSM-6-> Mod-2 D7.
Geetarz Review: First off a very public "thanks" to Eddy "Fire Ant" Pauley for hooking me up with a ticket - you da man!
We did get to meet up with Mr. And Mrs. DeltaNick briefly before the show at a nice pub around the corner from the venue. Who knows, there could have been 500 Slowhanders in the place, there was no way to tell! We'll have to think of something more organized for future concerts.
I was pleasantly surprised by the crowd in general - a much more mixed variety of ages than there were at the D.C. shows in 1998 and 2001. They were also far more casually dressed - in 2001 I thought perhaps many folks had planned on attending the opera and instead opted on EC as a consolation prize, but the crowd this time around was younger on average and far more laid back - always a good thing in my book.
Robert Randolph took the stage at 7:30 and put on a great high-energy performance. I don't know about anyone else, I think this is the best choice EC has made for an opening act yet that I have seen. To be honest I had never heard of him before this tour, and feel that I was missing something. I know some people seem to listen to music as background noise, or as something to soothe them - I listen to music to give me energy, and this band puts out more positive vibes and energy than most any 10 groups I can think of put together.
After a short break for set-up, Eric and band came on promptly at 8:30 - gone are the Journeyman days where the shows always started at 20 after 9! Casually dressed, the band appeared in great spirits and relaxed, with EC in a simple casual shirt and jeans - and yes, for those who have to know, a spiffy pair of Nike tennies. With Billy Preston absent due to illness, Tim Carmon (last seen on EC's 1998 tour) ably filled in on keyboards.
After some (gasp!) changing setlists on the European leg of the tour, the Setlist Generator does unfortunately seem to have become stuck in one position over the course of the US tour. The first half of the show was tasty, nothing particularly exceptional - don't get me wrong, still a nice performance but perhaps missing just a little something compared to some of the shows on the European leg earlier this year. Perhaps Preston's absence (and the static setlist) have contributed to a bit less edgy show.
Opening with a sweet "Let it Rain" with ample time for all the band to show off a tad, it was into "Hoochie Coochie Man". I'm with Mr. Tasker on this one - the backing singers are excellent, I love 'em, but PLEASE don't put girl singers in this Muddy Waters masterpiece. I can't think of a more "male" song than "Hoochie Coochie", and it's just plain WRONG, sorry.
Then on to "Walk Out in the Rain" ... a fantastic addition to the setlist, hopefully this will signal more of the same in the future. EC really seems to have approached this with a fresh attitude - probably not the best performance of this song on the tour, but nice nonetheless. Doyle's slide work really shined on the outro. "I Want a Little Girl" ... nice, but perhaps a tad too slow for this spot in the set. EC did get in a nice solo at the end that somehow was a bit more aggressive than we usually see in this number - still not quite up to the riveting performance of the same he gave in Albany, 2001 (one of the few really good 2001 shows), the day he really *did* get a little girl!
"Sheriff" was nice, again more in the vein of "tasty" than anything else, this really got a number of the crowd out of their seats, far better than at the past few shows in DC where one wonders if everyone was super glued in place. The Robert Johnson set was nice, if not exceptional - I still haven't recovered from Gadd's fantastic drumming work on "Judgment Day" in Dallas, so it's probably unfair to compare this show. "Kindhearted Woman" was the first part of the night where EC went into .... "the zone", as he crouched over so low his chin almost rested on the upper horn of his guitar, eyes shut, and turned out a solo that was somehow passionate, torrid, yet quiet and understated, all at the same time.
"Got to Get Better ....". Wow. I have to admit, this is one song I never thought I'd get to see played live. The feel has changed somewhat from the more intense reading given in Europe, slower now and with more of a funky beat, with an extended break in the middle section. EC stretched for his solos but never really hit that place ... this one goes to Doyle, he was all over in this song. They really began to crank the PA at this point as well.
Visually, EC shows have never been long on stage presence, but the lighting is the best I've seen yet at an EC show - kudos to the crew, very well done. One quibble: for years I've wondered where things like left socks and bedsheets disappear to when you put them in the clothes dryer, now I know ... EC's nicked all my spare bedsheets and put them up as a backdrop to the stage. If any of you guys on the tour bus want to know where the linens are, go check the stage. Note to EC: in lieu of my sheets back, I'll take Blackie.
"Have You Ever Loved a Woman" was nice, not quite up to the otherworldly performance from Dallas, but still a 9.5 by anyone's standards. This again is where Doyle really shines, and EC really seemed to enjoy listening to the band as much as anyone in the audience. Carmon is an excellent player, with a great feel for what he does, but if the stage crew could just, uhhhh, "forget" to plug in his electronic noises and make him stick to the Hammond B3 it would be a vast improvement to me.
After this more relaxed show, the band really came out swinging on "Badge". This wasn't a show where EC did anything exceptional, his soloing was fairly understated, but the band as a whole really got into a groove on this one and it was infectious, this really got the crowd fired up, it seemed this got most of the folks up and dancing. "Wonderful Tonight" ... if he's GOT to play it, is really is a speed bump on the way to Rock and Roll heaven in the spot after Badge, and slowed things down a bit. But ... I've been ready for years for EC to simply drop "Layla" and "Cocaine", but he really breathed fire and life into both, giving some of the all time best performances of these two I have *ever* heard, and that's saying something! Someone once asked me what it was about EC's playing ... and all I could come up with, was the word "aggression", and in songs like this that's what is called for ... and EC delivered in spades. Wide open and full throttle all the way through, and worth the trip right there.
The sound was quite good where we were sitting (diagonally off the edge of the stage), but the one problem was EC's guitar tone, which was back to the buzzy and somewhat reedy tone we got in 2001 (Control yourself Nick). This was strange as he played the same guitar (Crash 3) at the Crossroads Festival in Dallas and it sounded exceptional - this time it was a thick, violin-like tone but with a buzzy, brittle overtone on top. When EC came back out for the encore he instead had what I will forever call the "Reptile" strat, as Lee fussed with C3 offstage. Not that I'd want to dissuade anyone thinking of placing a bid at the auction .... my offer of $14.95 and a set of S&H green stamps still goes.
"Sunshine", probably nearing retirement age, was still nice, and it was Robert Randolph's interplay that made it fresh - as I mentioned earlier, this guy's enthusiasm is infectious, and it was grins all around. "Got My Mojo Working" was a great choice for a show closer.
Overall, a very nice show, particularly the latter third. A bit short ... certainly it won't hurt to open with "The Core" to really start things off nice!
---

Eric Clapton's concert meets the demands of legend

By SARAH MANDOUDIS


Date published: 7/15/2004


YOUTH CORRESPONDENT

When an artist has been performing for nearly four decades, and has been
inducted three times into the Rock and Roll Hall of Fame, the concert stands
a good chance of being phenomenal.

Eric Clapton's recent performance at the MCI Center was just that--and more.

There was an incredible energy and passion put into this concert by both
Clapton and his band mates. Although he's probably performed these songs a
million times, Clapton sang them as if it was the first time.

Indeed, during the concert, he added something new and dif- ferent to the
classics everyone knew--songs like "Layla" and "Cocaine"--and turned them
into entirely different-sounding tunes with new solos.

Clapton's tour is mainly focused on his new CD, "Me and Mr. Johnson." The
title refers to Robert Johnson--one of the earliest blues legends, who was a
major influence in Clapton's passion for guitar playing.

Johnson was such a remarkable artist, legend has it he sold his soul to the
devil to be able to play guitar the way he did.

To see Clapton's show and be immersed in this underappreciated genre of
amazing music was so refreshing.

When he performed "Wonderful Tonight," it was hard to believe I was there
hearing him play the song I had danced to at every school dance since
seventh grade.

Despite the newer songs, Clapton played just about every hit he ever made.
Hearing him cry out the words "Have you ever loved a woman so much it was a
shame and a sin/ So much you trembled in pain," the audience got the feeling
Clapton understands the blues.

With the death of his son and numerous other tragedies in this life, this
emotionally charged artist does not need to pretend when he's singing songs
of longing and pain.

Clapton gave a lot of credit to his band members for their music being so
eclectic--playing the blues and then switching to "Sunshine of your Love,"
another one of his classics from his days in Cream.

Physically, Clapton looked better than ever now that he's drug-free, and his
playing and performance have benefited.

Over the course of one evening, this artist proved he is more than capable
of meeting the legendary standards he established over many years.

SARAH MANDOUDIS is a recent graduate of Stafford High School, and a rising
freshman at Virginia Commonwealth University.

Date published: 7/15/2004