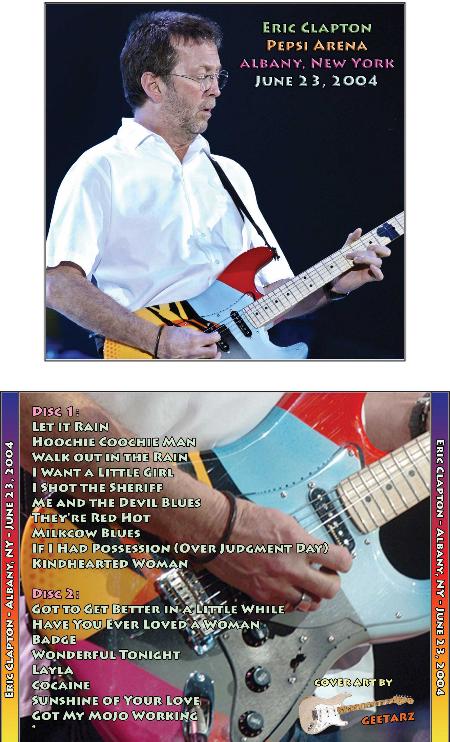 Cover Art
Eric Clapton - Pepsi Arena
Albany, New York - June 23, 2004 - CD-R2 - Aud 5
Disc 1:
Let it Rain
Hoochie Coochie Man
Walk Out in the Rain
I Want a Little Girl
I Shot the Sheriff
Me and the Devil Blues
They're Red Hot
Milkcow's Calf Blues
If I Had Possession (Over Judgment Day)
Kindhearted Woman
Disc 2:
Got to Get Better in a Little While
Have You Ever Loved a Woman
Badge
Wonderful Tonight
Layla
Cocaine
Sunshine of Your Love (*)
Got My Mojo Working (*)
A very good audience recording, and an excellent performance, one of the finest of the 2004 tour. Of special note here is the second-best-ever performance of "I Want a Little Girl", where EC uncharacteristically digs into the solo with vigor. EC's passionate playing this night was no doubt in part because this was the last night he played the "Crash 3" guitar, which was sold at charity auction the next day for $321,100.
Also of note here, one of the best performances from the 2004 tour of "Got to Get Better", "Kindhearted Woman", and "Have You Ever Loved a Woman". Overall, I'd put this in the Top 5 shows from that tour.