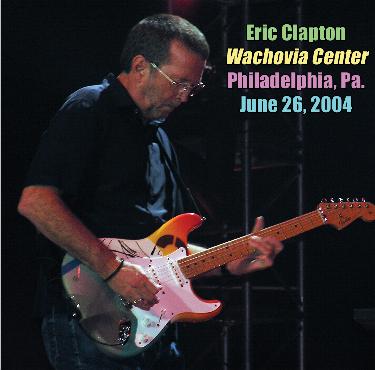 Eric Clapton - Wachovia Center
Philadelphia, Pa. - June 26, 2004 - Jerseyboy - Aud 6

Disc 1:

Let it Rain
Hoochie Coochie Man
Walk Out in the Rain
I Want a Little Girl
I Shot the Sheriff
Me and the Devil Blues
They're Red Hot
Milkcow Blues
If I Posession Over Judgment Day
Kindhearted Woman
Disc 2:

Got to Get Better in a Little While
Have You Ever Loved a Woman
Badge
Wonderful Tonight
Layla
Cocaine
Sunshine of Your Love (with Robert Randolph)
Got My Mojo Working (with Robert Randolph)
Geetarz Comments: Core Sound mics (hat mounted) -> Sharp MD -> Optical Out -> CD-R -> MAudio 24/96 -> Soundforge 7.0 -> EQ -> Nero 6.0 - CD-R. An excellent audience recording which really captures one of the finest performances of the 2004 tour. Eric and band come out like a prize fighter swinging, and Steve Gadd is so primed that he kicks into the drum introduction for "Got to Get Better" before "Kindhearted Woman", prompting EC to quip "Whoa! Seabiscuit!". This excellent audience recording is far superior to the Geetarz version of this performance and an essential acquisition for any EC fan. Highly recommended. Please note track listings as there are several different recordings of this performance.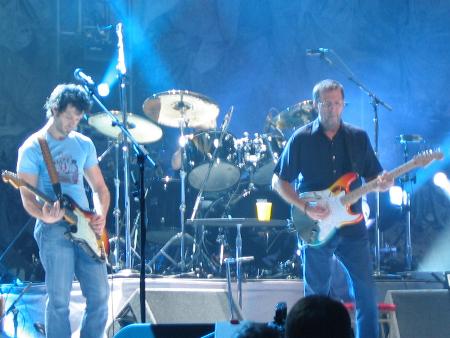 Visitor Comments:
"Thank you for your kind review of my June 2004 EC show. It was one of those nights where everything came together. Here's one of the better photos from the night. It'll give you an idea of my vantage point." - Jerseyboy