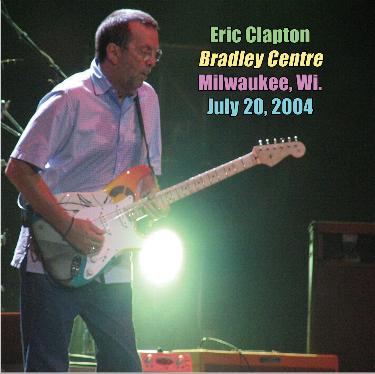 Eric Clapton - Bradley Centre
Milwaukee, Wi. - July 20, 2004 - CD-R2 - Aud 3

Disc 1:

Let it Rain
Hoochie Coochie Man
Walk Out in the Rain
I Want a Little Girl
I Shot the Sheriff
Me and the Devil Blues
They're Red Hot
Milkcow Blues
If I Had Posession Over Judgment Day
Kindhearted Woman
Got to Get Better in a Little While
Disc 2:

Have You Ever Loved a Woman
Badge
Wonderful Tonight
Layla
Cocaine
Sunshine of Your Love (with Robert Randolph)
Got My Mojo Working (with Robert Randolph)
Comments: MD source does skip in parts (some MiniDisc recorders are very sensitive to movement); this is not a flaw in the CD duplication. Nice performance but recording quality, although not terrible, certainly isn't very good, either. Check out EC's interesting phrasing during the second verse of "Got to Get Better ...".