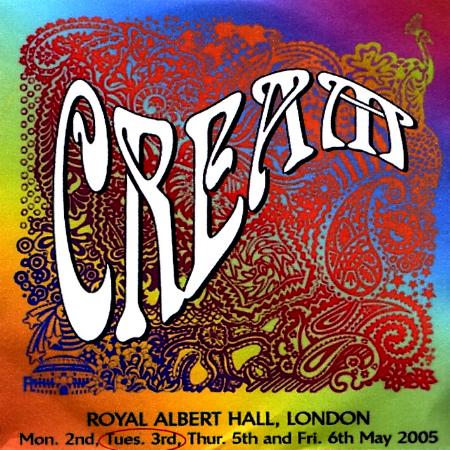 Front Cover
Back Cover
Cream - The Royal Albert Hall
London, England - May 3, 2005 - Choir Recording - CD-R2 - Aud 2
Disc 1:
I'm So Glad
Spoonful
Outside Woman Blues
Pressed Rat and Warthog
Sleepy Time Time
NSU
Badge
Politician
Sweet Wine
Disc 2:
Rollin' and Tumblin'
Stormy Monday
Deserted Cities of the Heart
Born Under a Bad Sign
We're Going Wrong
Crossroads
Sitting On Top of the World
White Room
Toad
Sunshine of Your Love
Recorded from the choir section at the Royal Albert Hall.

Recording: SP-BMC-12 Binaural mics > Sharp MD-MT170 Minidisc Recorder.

Transfer: Sony MDS-JE520 > Pioneer PDR-555RW > TDK CD-R.

Conversion: EAC v. 0.9 prebeta4 (secure mode, effects corrected) > HD > FLAC 5 > CD-R.