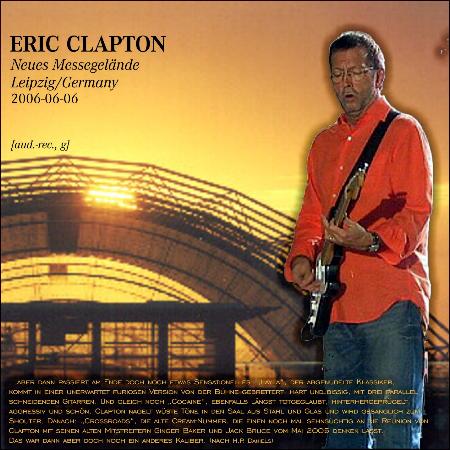 Front Cover
Back Cover
Eric Clapton - Neues Messegelšnde
Leipzig, Germany - June 6, 2006 - CD-R3 - Aud 4
Disc 1:
Pretending
So Tired > Got to Get Better in a Little While
Old Love
Everybody Ought to Make a Change > Motherless Children
Back Home
I Am Yours
Nobody Knows You
Running on Faith
Disc 2:
After Midnight
Little Queen of Spades
Let it Rain
Wonderful Tonight
Layla
Cocaine
Crossroads
Somewhere Over the Rainbow (hidden track)
A decent and quite listenable audience recording. There's an interesting minor key piano solo in "Little Queen of Spades", and a unique rhythm figure in the coda of "Layla". Disc 2 contains a hidden track, recorded at the HSBC arena in Buffalo, New York, on June 15, 2001.