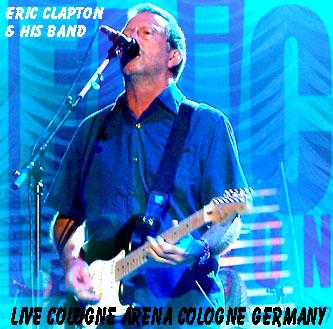 Front Cover
Back Cover
Eric Clapton - Cologne Arena
Cologne, Germany - July 13, 2006 - CD-R2 - Aud 3
Disc 1:
Pretending
So Tired
Got to Get Better in a Little While
Old Love>
Everybody Ought to Make a Change
Motherless Children
Back Home
I Am Yours
Nobody Knows You
Running on Faith
Disc 2:
After Midnight
Little Queen of Spades
Let it Rain
Wonderful Tonight
Layla
Cocaine
Crowd
Crossroads
A poor audience recording. Vocals are somewhat distant sounding, but Derek Trucks' guitar sounds a little more up front and audible in the mix. The band gets into a nice funky intro to "So Tired", but that can't make this otherwise forgettable audience recording worth a recommendation. Avoid.