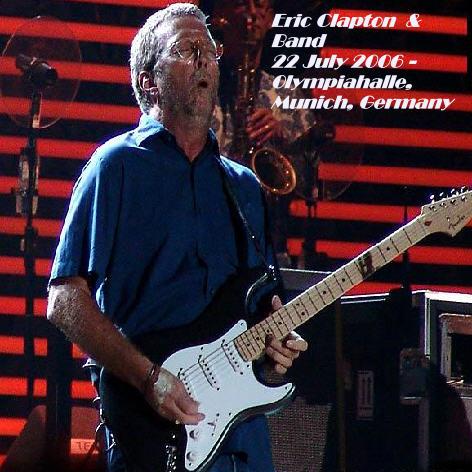 Front Cover
Back Cover
Cover Art
Cover Art
Eric Clapton - Olympiahalle
Munich, Germany - July 22, 2006 - CD-R2 - Aud 4
Disc 1:
Pretending
I Shot the Sheriff
Got to Get Better in a Little While
Old Love>
Everybody Ought to Make a Change
Motherless Children
Back Home
I Am Yours
Nobody Knows You
Running on Faith
Disc 2:
After Midnight
Little Queen of Spades
Further On Down the Road
Wonderful Tonight
Layla
Cocaine
Crossroads
Lineage: okmstyle earmics – Sony MD NZ-NH700 –sonicstage - wav conversion with -HIMDrenderer- nero audio editor – flac frontend – flac. A decent, listenable audience recording. Some really expressive vocals from EC on "I Shot the Sheriff" make this show an interesting listen, plus really nice renditions of "Motherless Children" and "After Midnight".