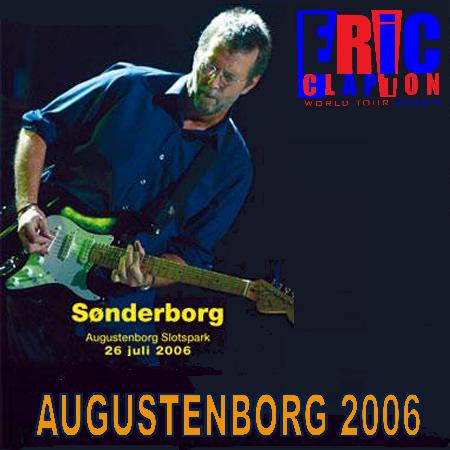 Cover Art
Front Cover
Back Cover
Eric Clapton - Augustenborg Slotspark
Augustoenborg, Denmark - July 26, 2006 - CD-R2 - Aud 5
Disc 1:
Pretending
I Shot the Sheriff
Got to Get Better in a Little While
Old Love>
Everybody Ought to Make a Change
Motherless Children
Back Home
I Am Yours
Nobody Knows You
Running on Faith
Disc 2:
After Midnight
Little Queen of Spades
Further On Down the Road
Wonderful Tonight
Layla
Cocaine
Crossroads
A nice, listenable audience recording that features some of the finest performances of the 2006 tour, including a killer "I Shot the Sheriff", and a blistering "Got to Get Better in a Little While". This is also THE performance of "Old Love" for the 2006 tour, and the sometimes annoying Tim Carmon manages to redeem himself by teasing the riff from "Sunshine of Your Love" into his solo, after which a laughing EC introduces him as "Ginger Baker ... uhhh, Tim Carmon!". Recommended.
Taper Comments:
Taper : Lazy Moose

Lineage : SP-CMC-2->SP-SPSB-1->TCD-D7-Terratec->CEP->Cdwave->FLAC

This is a nice recording from a hot summer evening in Augustenborg Slotspark. A really good performance from EC and band. Specially I liked the playing of Derek Trucks !

The taper was placed just to the right of the sound tower. It was an open air concert, so people are talking a litlle too much I think, sometimes....

Enjoy and share this recording for free !
Visitor Comments:
"Augustenborg 26th July is a cracking show with Old Love and LQOS particularly good.EC and Derek is a spooky combination when you listen to the Dominoes, its like Duane said "I wasnt finished with EC so Im sending Derek to do it for me". - J Donohue