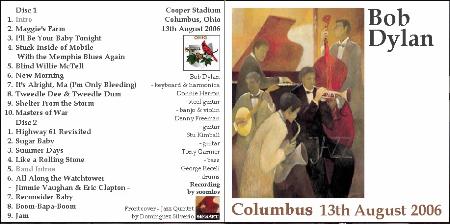 Front Cover
Back Cover
Back Cover
Jimmie Vaughan with Eric Clapton - Cooper Stadium
Columbus, Ohio - August 13, 2006 - CD-R1 - Aud 5
Track List:
Reconsider Baby
Boom-Bapa-Boom
Jam
neumann km140's > sound devices mp-2 > sony sbm-1(tmod) > sony d8 sony d8 > tascam cd-rw700 > eac > cool edit > cd wave > flac

notes:
This set is incomplete, I arrived to the show late, about half way through Jimmie Vaughan's set... but just nearly in time to catch the last 3 songs with Eric Clapton.

Recording starts during first verse of "Reconsider Baby"

01. //Reconsider Baby [04:02]
02. Boom-Bapa-Boom [07:01]
03. Jam [04:49]
Total time: [15:52]

Band members:
Jimmie Vaughan - vocals, guitar
Lou Ann Barton - vocals
Billy Pitman - guitar
George Rains - drums
Bill Willis - piano, organ
Eric Clapton - vocals, guitar

Flac Fingerprint
jvec2006-08-13t01.flac:9393691503d8e235d906f78eb2414fee
jvec2006-08-13t02.flac:e98e83370de15383a19e58e87dfb78ac
jvec2006-08-13t03.flac:0ea7c29eca3fd03688b441b5308e1891


Geetarz Comments:
Tasty set ... one wonders why EC did not join his old friend Bob Dylan on stage as well ... past EC's bedtime perhaps?