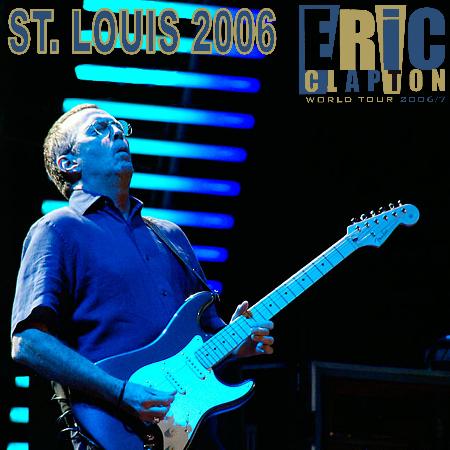 Front Cover
Back Cover
Eric Clapton - Scottrade Center
September 18, 2006 - St. Louis, Mo. - CD-R2 - Aud 4
Disc 1:
Pretending
I Shot the Sheriff
Got to Get Better in a Little While
Old Love (with Robert Cray)
Everybody Ought to Make a Change
Motherless Children
Back Home
I Am Yours
Nobody Knows You
Running on Faith
Disc 2:
After Midnight
Little Queen of Spades
Further On Up the Road
Wonderful Tonight
Layla
Cocaine
Crossroads
Reconsider Baby (*)
Boom Bapa-Boom (*)
Jam (*)
CSB Microphones > Sony DAT D8 > FLAC.
Geetarz Comments:
A really hot, excellent show, overall one of the top performances from the 2006 tour - EC and band must have been ready to play after resting up from the earlier european leg of the tour. This performance of "Crossroads" may just be the one to beat for 2006.