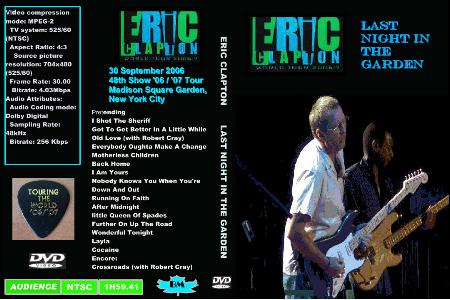 Cover Art
Eric Clapton - Madison Square Garden
New York, New York - September 30, 2006 - DVD-R1 - Aud 5
Setlist:
Pretending
I Shot the Sheriff
Got to Get Better in a Little While
Old Love (with Robert Cray)
Everybody Ought to Make a Change
Motherless Children
Back Home
I Am Yours
Nobody Knows You
Running on Faith
After Midnight
Little Queen of Spades
Further On Up the Road
Wonderful Tonight
Layla
Cocaine
Crossroads (with Robert Cray)
This nicely filmed, audience shot video is taken mostly from the projection screens and is a great way to enjoy a fine performance. Audio quality is also quite good and enjoyable as well ... comparison with the audio recording of this performance is pending. Widely available as it has been seeded on DIME as well as Weed/Vine offers on the ClaptonBoobs group (with major thanks to DVDJon!).