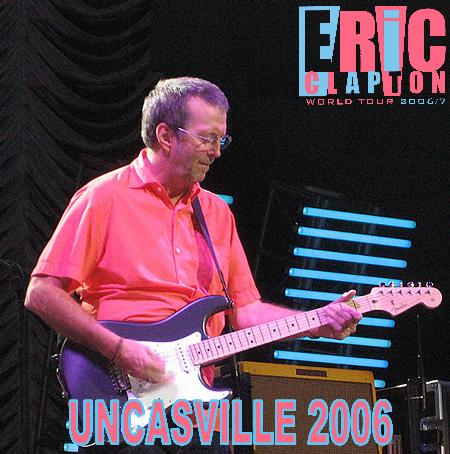 Front Cover
Back Cover
Eric Clapton - Mohegan Sun Arena
Uncasville, Ct. - October 7, 2006 - CD-R2 - Aud 3
Disc 1:
Pretending
I Shot the Sheriff
Got to Get Better in a Little While
Old Love (with Robert Cray)
Anyday
Motherless Children
Back Home
I Am Yours
Nobody Knows You
Running on Faith
Disc 2:
After Midnight
Little Queen of Spades
Let it Rain
Wonderful Tonight
Layla
Cocaine
Crossroads (with Robert Cray)
One of, if not the best, performances from the US leg of the 2006 tour. Unfortunately the recording quality isn't up to the same standard as the performance, but the listener who can deal with a merely average recording quality will be rewarded.
Taper's Comments:
Source : AT853RX > PS2 > AD20 > optical > JB3 > CDWAVE > FLAC

Recorded by : Dave Malloy

Transferred by : Dave Malloy

Eric Clapton - Guitar & Vocals
Derek Trucks - Guitar
Doyle Bramhall, II - Guitar
Steve Jordan - Drums
Willie Weeks - Bass
Tim Carmon - Keyboards
Chris Stainton - Keyboards
Michelle John - Vocals
Sharon White - Vocals

Special Guest:
Robert Cray - Guitar & Vocals

Notes : arrived a little late and missed all of Robert Cray's first song.

Recording starts in the middle of the second song. Recorded from section 115, row K. Special thanks to Pete Nyman.