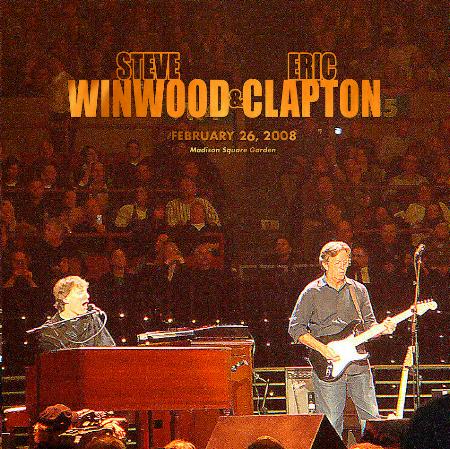 Front Cover
Back Cover
Back Inside
Eric Clapton and Steve Winwood - Madison Square Garden (Schoeps Mono)
New York, New York - February 26, 2008 - CD-R2 - Aud 4 (mono)
Disc 1:
Had to Cry Today
Low Down
Forever Man
Sleeping in the Ground
Presence of the Lord
Glad
Well Allright
Double Trouble
Pearly Queen
Tell the Truth
No Face, No Name, No Number
Disc 2:
After Midnight
Split Decision
Ramblin' On My Mind (EC Solo)
Georgia On My Mind (SW Solo)
Little Wing
Voodoo Chile
Can't Find My Way Home
Cocaine
Dear Mr. Fantasy
A decent, listenable audience recording. Recorded and originally seeded on DIME by TaperAdvocat. There's real potential here for a great remaster/tweak job, as the source recording is clean and free of talking, audience noise, etc. Some "faux stereo" would be icing on the cake!
Taper's Comments:
"Excellent show, it is everything you want and speaks for itself.

Great sound and great crowd for MSG. Most hoots, hollars and whistles are only apparent between songs. Regrettably, I turned off the power to one mic, so this is a single mic, double mono recording ... meaning I just copied the left channel into the right channel to give quasi stereo effect. Don't get me wrong, this is still a great recording. I'd bet very few of you would ever have known if I didn't say anything about this fact, but I do believe in full disclosure (probably to a flaw).

Source Info: Schoeps CCM4's > SD744T @ 24/96 > firewire to hard drive of dedicated music only computer > Bit Conversion and re-sampled to 16/44.1 with Sound Forge 7.0 > indexed in Sound Forge 4.5 > CD set up with CD Architect 4.5 > CD burned with CD Architect 5.0 onto Mitsui Gold CD > Extracted to Internet Capable Computer with EAC > FLAC.

Recorded from the 20th Row, FOB, In Front of Left Stack

May those who try to sell or otherwise profit from my recording be cursed with all the bad karma that you justly deserve."
Visitor Comments:
"Just thought I'd like to say to my fellow EC fans who, like me, were worried that he may have lost some of his prowess. Fear not! If he never plays another note he has restored my faith with this display. I haven't heard the final night but it will have to go some to better this. Fantastic solos all over the place BUT Voodoo Child just brings goosebumps every time I listen to it. So tasteful, yet passionate, so Jimi yet so Eric, so bloody marvellous I cannot wait to see him playing it on DVD, just to watch how he does it and to see his face. This is up there with the best! Thanks a million to the taper and to those who got it out so quickly. " - Anon