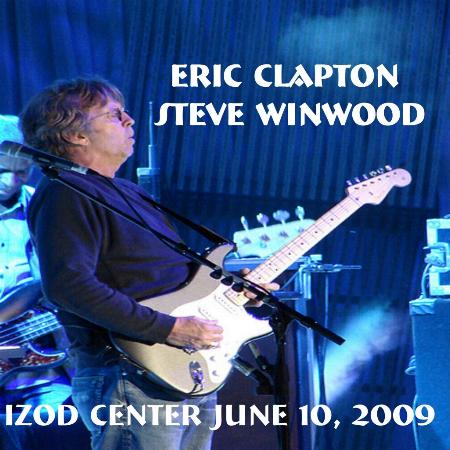 Front Cover
Back Cover
Eric Clapton and Steve Winwood - Izod Center
East Rutherford, New Jersey - June 10, 2009 - Modern Day Warrior - Aud 4
Disc 1:
Had to Cry Today
Low Down
After Midnight
Sleeping in the Ground
Presence of the Lord
Glad
Well Allright
Tough Luck Blues
Tell the Truth
Pearly Queen
No Face, No Name, No Number
Forever Man
Disc 2:
Georgia On My Mind
Driftin'
Nobody Knows You
Layla
Can't Find My Way Home
Split Decision
Little Wing
Voodoo Chile
Cocaine
Dear Mr. Fantasy
First show of the 2009 Clapton/Winwood show. I didn't make it to any of the MSG shows last year so I was excited to see this. Great show! Clapton and Winwood seem to bring the best out of each other. I think the recording came out pretty nice from where I was located. And had a few chatter boxes by me (I knew trouble was gonna brew when I saw a really young couple sit in front of me, they really weren't there for the concert because they talked through just about every song! Thankfully, the way I was faced toward the stage, you don't really pick them up to much, just a little between songs).I didn't do anything to this recording except split into tracks. Hope everyone enjoys and as always trade freely and please do not encode to lossy formats except for personal use. Please preserve the quality.
Geetarz Comments:
Originally seeded on TTD, thanks to 'petzanpz' for creating artwork.