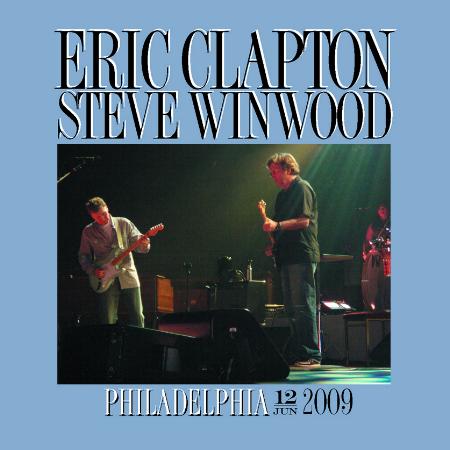 Front Cover
Back Cover
Eric Clapton and Steve Winwood - Wachovia Center
Philadelphia, Pa. - June 12, 2009 - CD-R2 - Jerseyboy - Aud 6
Disc 1:
Intro
Had to Cry Today
Low Down
After Midnight
Sleeping on the Ground
Presence of the Lord
Glad
Well Allright
Tough Luck Blues
Tell the Truth
Pearly Queen
No Face, No Name, No Number
Disc 2:
Forever Man
Georgia On My Mind
Driftin'
Nobody Knows You
Layla
Can't Find My Way Home
Split Decision
Little Wing
Voodoo Chile
Cocaine
Encore Applause
Dear Mr. Fantasy
Recorded from section 2 row 11 dead center.

Church-Audio cards>CA STC-9000a pre-amp>Edirol R-09 @44.1/16>USB2>Sound Forge9>Cd Architect>CDR>EAC>Flac

Gotta be the loosest EC show I've seen since 1974 at the Spectrum! Being the 2nd show of this tour there were some missed ques EC took the 2nd verse of Forever Man and stepped on Steve's vocal Chris Stainton looked like he felt asleep when it was his turn to solo on Cocaine and I think he missed a solo completely during an earlier Winwood number...but this was still an AMAZING show! I think the sound guys are still tweaking . From where we were the vocals were thin, but the instruments were very clear. Check out the samples. Share and Enjoy!
Geetarz Comments:
Like Babe Ruth stepping up to the plate, once again Jerseyboy takes aim and knocks it out of the park. The best recording of the 2009 EC / SW tour. Beyond recommended - ESSENTIAL!