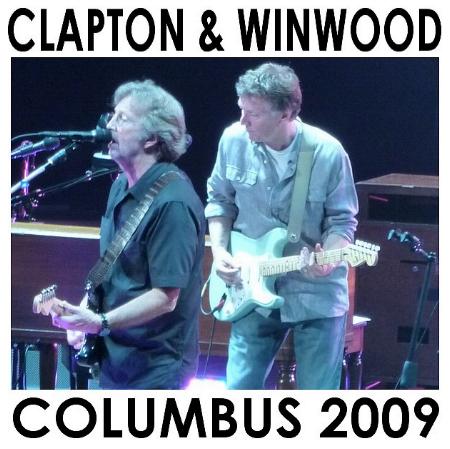 Front Cover
Back Cover
Back Inside
Eric Clapton and Steve Winwood - Value City Arena
Columbus, Ohio - June 15, 2009 - CD-R2 - Core CSB's - Aud 5
Disc 1:
Had to Cry Today
Low Down
After Midnight
Sleeping on the Ground
Presence of the Lord
Glad
Well Allright
Tough Luck Blues
Pearly Queen
There's a River
Little Wing
Forever Man
Disc 2:
Georgia On My Mind
Driftin'
How Long Blues
Layla
Can't Find My Way Home
Split Decision
Voodoo Chile
Cocaine
encore applause
Dear Mr. Fantasy
Source: Core Sound Binaural mics (Bass Filter On) > Sony D8 (5th Row, Right Side of stage, Under/In Front of Right Stack) Transfer: Maxell DAT > Sony Standalone CD Burner > dbpoweramp (FLAC-level 8) > Trader's Little Helper (FFP) > Torrent

Not much to add really. Some crowd chatter during the quiet parts. Not too bad. Pretty good tape, all in all. Eric burns & that's what counts.
Geetarz Comments:
A very good audience recording.