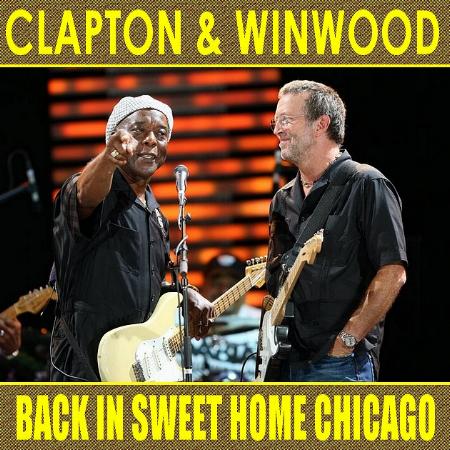 Front Cover
Back Cover
Eric Clapton and Steve Winwood - United Center
Chicago, Ill. - June 17, 2009 - CD-R2 - Royburns - Aud 5
Disc 1:
Had to Cry Today
Low Down
After Midnight
Presence of the Lord
Glad
Well All Right
Tough Luck Blues
Pearly Queen
Crossroads
There is a River
Forever Man
Georgia on My Mind
Driftin'
Disc 2:
How Long
Layla
Can't Find My Way Home
Split Decision
Voodoo Chile
Sweet Home Chicago > Watch Yourself (with Buddy Guy)
Drowning on Dry Land (with Buddy Guy)
Source: Core Sound Cartioid mics > Zoom H2 (48kHz/24-bit) (8th Row, Section 220, Stage Right/House Left)

Transferred to the hard drive using my card reader.

Downsampled to 44.1kHz/16-bit using Audacity.

Misc. edits, fades and normalization to 95% using Cool Edit Pro.

Chopped up using CD Wave Editor. Mastered to fit on 2 audio CDs.

SBEs corrected using Trader's Little Helper. ("-fixed" removed from filenames.)

Encoded to FLAC (Level 7) using Trader's Little Helper

A few seconds of "Sweet Home Chicago" are missing because the recorder was in the process of saving the WAV file as it reached the maximum size limit. Originally recorded in 48kHz, the maximum size of the WAV (which is 2Gb) was reached about 125 minute into the show (during the encore). The recorder saved the file, and continued recording in another WAV file. But, a little snippet was lost in the process. You'll hear an abrupt edit in an other wise excellent, nearly error-free recording with minimal crowd distraction.

WOW - great show and one of the best concert tours of the year. The decision to bring on Buddy Guy seemed to have been spontaneous. After "Voodoo Chile," Eric turned to Stevie and made a "cut it" gesture (hand across throat). Eric then declined the fresh guitar a stage hand had tried to offer (indicating to me that the stage crew was expecting the usual "Cocaine") and promptly left the stage. The band left the stage for the usual false exit before the encore, and I noticed an additional amp being wheeled on and mic'ed. An extra guest during an Eric Clapton show in Chicago can only mean one person - Buddy Guy, the Blues Mayor of the City. Buddy came on stage, and they tore the house down. Buddy played Stevie's powder blue guitar, which was poorly mic'ed (and inaudible) for the first few minutes of the encore. After the fifteen-minute encore, Eric and Buddy left the stage rather abruptly. There was no final bow from the performers, as is common. Stevie Winwood merely walked off the stage without any acknowledgement from Clapton, and the house lights came on. I'm not sure how the egos of 60-something rock stars are, but I thought it was somewhat remarkable that Clapton seemed to be more interested in ending the show with his arms around Buddy Guy than waving a final farewell and bow with Steve Winwood.

Enjoy! Feedback is welcome.
Geetarz Comments:
An excellent performance all around, and one of the best of the 2009 tour.