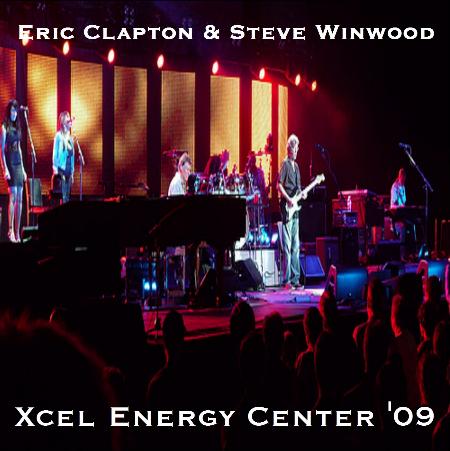 Front Cover
Back Cover
Eric Clapton and Steve Winwood - Xcel Energy Center
St. Paul, Mn. - June 18, 2009 - CD-R2 - Perks - Aud 5
Disc 1:
Had to Cry Today
Low Down
After Midnight
Presence of the Lord
Sleeping in the Ground
Glad
Well Allright
Tough Luck Blues
Pearly Queen
Crossroads
No Face, No Name, No Number
Forever Man
Georgia On My Mind
Driftin'
Disc 2:
How Long Blues
Layla
Can't Find My Way Home
Split Decision
Voodoo Chile
Cocaine
Dear Mr. Fantasy
Source: Schoeps MK4's > active cables > Nbox > Edirol R-09HR @ 24/48. Recorded from Sec 117, Row 8, Seat 4.

Transfer: Transcend 4gb SD card > USB > Dell PC > 24bit WAV > Sound Forge v9.0e (volume +3.0db, dither to 16 bit, resample to 44.1) > CDWave Editor > FLAC.

Recorded and transfered by perks.
Geetarz Comments:
An excellent, enjoyable audience recording. This might even be an Aud 6, but there's a screamer near the taper. Comment after "Sleeping in the Ground" says it all, and speaks for the rest of us ... Recommended.