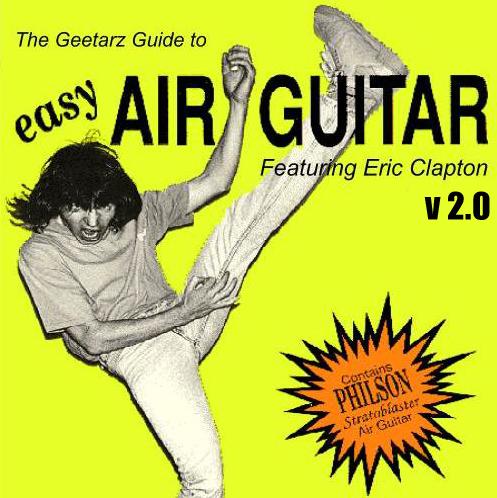 Front Cover
Back Cover
The Geetarz Guide to Easy Air Guitar v. 2.0 - Featuring Eric Clapton
Belfast, Ireland - April 24, 2004 - Geetarz 125 / 126 - SB 6
Disc 1:
Let it Rain
Hoochie Coochie Man
Walk Out in the Rain
Bell Bottom Blues
I Shot the Sheriff
Milkcow's Calf Blues
When You've Got a Good Friend
They're Red Hot
Kind Hearted Woman Blues
Got to Get Better in a Little While
Have You Ever Loved a Woman
Disc 2:
Badge
Wonderful Tonight
Layla
Cocaine
Sunshine of Your Love
Got My Mojo Working
Kindhearted Woman Blues (*)
Milkcow's Calf Blues (*)
Contains the Belfast broadcast in perfect digital quality ... this time from a complete, pre-FM source in scintillating, noncompressed quality. As a special bonus, for your listening pleasure bonus tracks from the tour reheasrsals have been added to the end of the second disc. But wait! There's More! Easy Air Guitar 2.0 allows you to jam along with EC and his band, and to this end, the package includes:


One Philson Stratoblaster Air Guitar
One Air Guitar Amplifier (Marshall or Fender, randomly)
One Air Guitar cord
One Air Guitar Strap
One Air Guitar Electronic Tuner
Set of Air Guitar Replacement Strings
Everything you need is there. So tune up, plug in, crank up the stereo, and wail away as you jam along with EC and his band. Enjoy!
Please note: This set is for trade, and NEVER for sale. If you receive a copy of this set without the accessory AIR items, you have been ripped off!