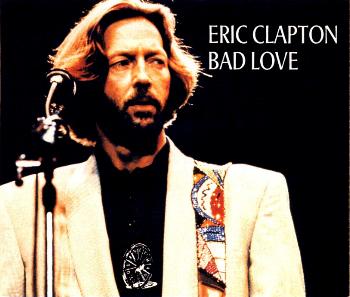 Eric Clapton - Bad Love
London, England - January, 1990 - Journeyman - EC901/2 - SB 6

Disc 1:

Pretending
Running on Faith
I Shot the Sheriff
White Room
Before You Accuse Me
Old Love
No Alibis
Tearing Us Apart
Wonderful Tonight
Layla
Disc 2:

Crossroads
Sunshine of Your Love
Pretending
Running On Faith
White Room
Bad Love
Wonderful Tonight
Layla
Knockin' On Heaven's Door
Sunshine of Your Love
Comments: An interesting mixture of recordings. The entirety of Disc 1, and Tracks 1 and 2 on Disc 2, are sourced from the radio show version of the January 24, 1990 show that has been widely distributed. Disc 2, Tracks 3-8, are sourced from the commercially available "24 Nights" release - you can hear a momentary tape glitch in the source near the beginning of "Running on Faith". This version is easy to spot as it's the released version of "Pretending" in which the second solo has been changed. Disc 2, tracks 9-10, are again taken from the January 24, 1990 show. These are the "radio mix" as are the other tracks from this night on this release.