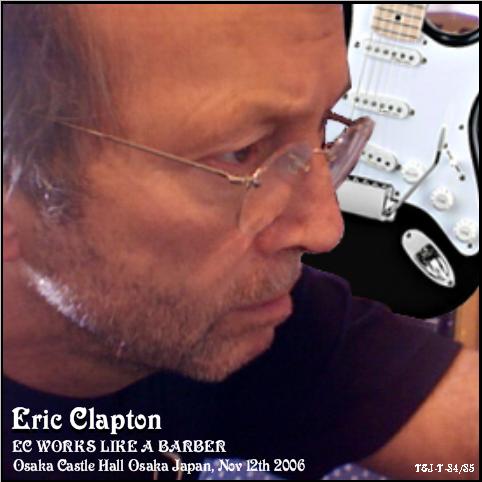 Front Cover
Back Cover
Back Inside
Eric Clapton - Works Like a Barber
Osaka, Japan - November 12, 2006 - TSJ-T 84/85 - CD-R2 - Aud 4
Disc 1:
Pretending
I Shot the Sheriff
Got to Get Better in a Little While
Old Love
Tell the Truth
Motherless Children
Key to the Highway
Outside Woman Blues
San Francisco Bay Blues
Nobody Knows You
Running on Faith
Disc 2:
After Midnight
Little Queen of Spades
Further On Up the Road
Wonderful Tonight
Layla
Cocaine
Crossroads
Available as a text file.
Geetarz Comments:
A nice performance featuring a really nice Tell the Truth and Motherless Children with great slide work all around. For enquiring minds, the title is a reference to the fact that EC took Monday off, like a traditional Japanese barber.

One glaring problem in the taper's notes is the completely incorrect assertion that the files will sound better if converted from FLAC to WAV, of course FLAC Compression is completely nonlossy. The taper's assertion otherwise is just so wrong that it is only eclipsed by the website visitor who was willing to fight to the death to defend his belief that CD's store data magnetically and that exposing them to speaker magnets changes the sound!