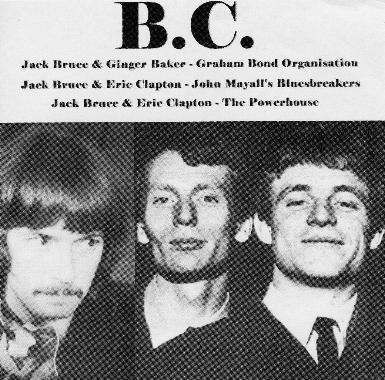 B.C. - Before Cream
Various 1965 - Remaster Series - CRM701 - SB 5

Disc 1:

Introduction
Wade in the Water
Big Boss Man
Person to Person Blues
1st Time I Met the Blues
Spanish Blues
Stormy Monday
Traintime
Early in the Morning
What I'd Say
(Introduction) Maudie
It Hurts to Be in Love
Have You Ever Loved a Woman
Bye Bye Bird
Hoochie Coochie Man
Stormy Monday
Crossroads
I Want to Know
Stepping Out
Comments: Tracks 1-10: The Graham Bond Organisation live at Kooks Kleek, 1965. Tracks 11-16: The Bluesbreakers live at the Flamingo Club, November 1965. Tracks 17-19: The Powerhouse, 1966.