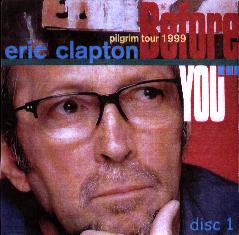 Eric Clapton - Before You
Budokan, Tokyo - November 27, 1999 - EAC World Star Records - nun - Aud 5

Disc 1:

1) My Father's Eyes
2) Pilgrim
3) River of Tears
4) Going Down Slow
5) She's Gone
6) Rambling On My Mind (acoustic)
7) Tears In Heaven (acoustic)
8) Before You Accuse Me (acoustic)
9) Bell Bottom Blues (acoustic)
10) Change the World (acoustic)
Disc 2:

1) Gin House (Andy Fairweather-Low on vocals)
2) Cocaine
3) Wonderful Tonight
4) Badge
5) Have You Ever Loved a Woman
6) Layla
7) Sunshine of Your Love




Note: An excellent audience recording, some near crowd noise but otherwise very listenable. EC doesn't use heavy chorus as he has one some of the other Japan shows. A great, funky intro for "Going Down Slow" - Gadd kicks into a neat drum riff to lead the band into the song. An incredible version of "She's Gone" - Steve Gadd was so *on* this night, incredible drumming. EC is on fire, playing with such intensity that his usual, controlled approach goes out the window, fumbling all over himself for the solos, his playing is disjointed and very aggressive, not the usual "controlled" EC solos. "Before You Accuse Me" is a highlight of the show, a great acoustic version with lots of crowd participation. A rousing, aggressive version of "Badge" an awesome solo on "Sunshine" are icing on the cake - this show is excellent.