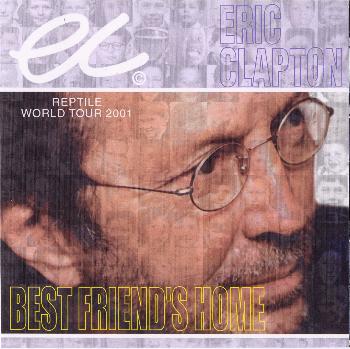 Eric Clapton - Best Friend's Home
Tokyo, Japan - November 30, 2001 - E&C World Star - ECWS1-1130 - Aud 5

Disc 1:

Key to the Highway
Reptile
Got You On My Mind
Tears in Heaven
Layla (acoustic)
Bell Bottom Blues
Change the World
River of Tears
Goin' Down Slow
She's Gone
Disc 2:

I Want a Little Girl
Badge
Hoochie Coochie Man
Have You Ever Loved a Woman
Cocaine
Wonderful Tonight
Layla (electric)
Sunshine of Your Love
Somewhere Over the Rainbow
Comments: There are two different audience recordings of this show in circulation. When compared with Final Chapter, this one trades some of the crystal clear clarity (don't we all love alliteration?) of that release for a nice warm, more analog feel. It's impossible to say which is a "better" recording, in this case it comes down simply to personal preference. "Best Friend's Home" has disc times of 56:29/66:21.