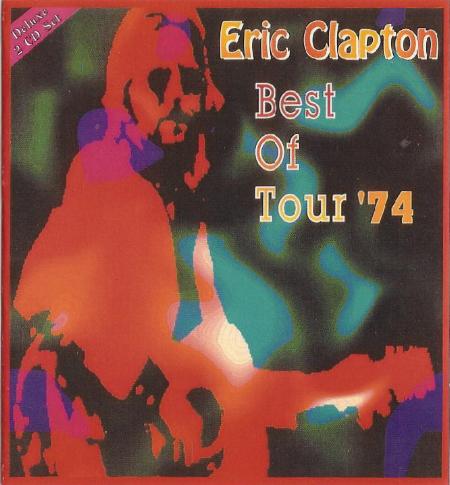 Front Cover
Front Inside
Back Cover
Eric Clapton - Best of Tour '74
Largo, Maryland - July 14, 1974 - Whoopy Cat - WKP-0021/22 - Varies
Disc 1:
Smile
Let it Grow
Can't Find My Way Home
I Shot the Sheriff
Layla
Ramblin' On My Mind
Have You Ever Loved a Woman
Willie and the Hand Jive
Get Ready
Blues Power
Little Wing
Disc 2:
Badge
Presence of the Lord
Tell the Truth
Crossroads
Little Queenie
Key to the Highway (*)
Easy Now (*)
Let it Rain (*)
Baby Don't Do It (*)
(*) Bonus tracks recorded at various venues and dates. See back cover for details. The coverart claims that this release is "taken from the soundboard master". Nothing really exciting here, the average collector would be better off simply acquiring the better releases of each individual performance rather than wasting time and effort on this compilation.