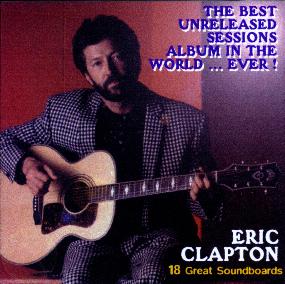 Best Unreleased Session Album in the World - Ever!
Various - EC Compilations 016 - SB 6

Track List:

Where There's a Will There's a Way
Moody Jam
Carnival to Rio
Tearing Us Apart (full unedited with false start solo)
I'm Too Good For You
Homeboy 2
Ring Side
Country Bikin' 1
You Know What I Mean
Get Out of Here 1
Italy
Version with drums
Munich Agreement
Blackout
Austria (With Talkback)
A Christmas Walk
At Home
Rock Me Baby
Comments: Credits:
Track 1: First Solo Album Outtake, Olympic Studios Nov. 1969
Track 2: Dominos 2nd Album Outtake, Olympic Studios April 1971
Track 3: Rolling Stones, Electric Lady Studios NY - June 25, 1975
Track 4: Tina Turner, Wembley Stadium - June 18, 1987
Track 5: Davina McCall, Townhouse Studios - June 15, 1988
Tracks 6-10: "Homeboy" Film soundtrack rehearsals - Townhouse Studios - April 23, 1988
Tracks 11-15: "Peace In Our Time" - Townhouse Studios - May 7-21, 1988
Tracks 16-17: "Communion" - Townhouse Studios - December 8-9, 1989
Track 18: NAACP Image Awards - February 14, 1999

Comments: Worth acquiring if only for "Carnival in Rio", for EC throws the lyric to "Stormy Monday" into the song at the end, very cool. The date listed here from the cover art is clearly incorrect since EC played a live gig in Providence, Rhode Island on June 25, 1975.