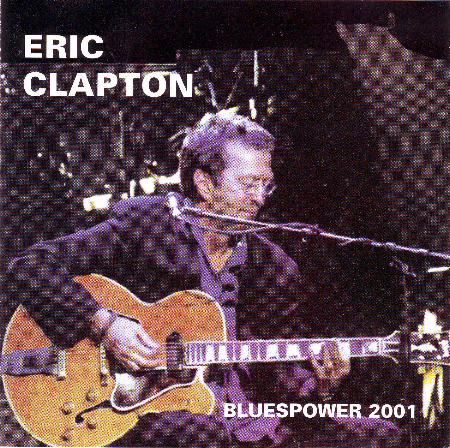 Front Cover
Back Cover
Eric Clapton - Bluespower 2001
London, England - February 10, 2001 - lun - CD-R2 - Aud 3
Disc 1:
Key to the Highway
Reptile
Tears in Heaven
Bell Bottom Blues
Change the World
My Father's Eyes
River of Tears
Going Down Slow
She's Gone
It's Alright
Finally Got Myself Together
Disc 2:
Got You On My Mind
Ain't Gonna Stand For It
Don't Let Me Be Lonely Tonight
Travelling Light
Hoochie Coochie Man
Have You Ever Loved a Woman
Badge
Wonderful Tonight
Layla
Sunshine of Your Love
Somewhere Over the Rainbow
In retrospect, the 2001 tour was considered by many to be one of EC's weaker outings ... fans use phrases like "phoning it in" or "loitering on stage", and these criticisms are true to some extent. However, some performances from that tour are standouts, not only for that series of shows but overall, and while this night's gig may not be an "all time best", it's still a pleasantly good show that's a fun listen from beginning to end. Recommended.