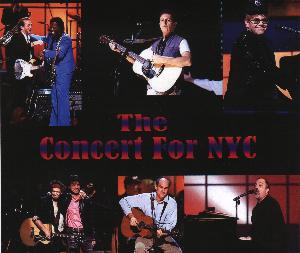 The Concert for New York City
New York, New York - October 20, 2001 - 3BR 301 - SB 6

Disc 1:

America
Heroes
Iris
American Girl
Miami 2017 (See the Lights Go Out)
New York State of Mind
Hoochie Coochie Man
Everything Gonna Be Alright
Come to My Window
Born to Run
Disc 2:

Who Are You
Baba O'Riley
Behind Blue Eyes
Won't Get Fooled Again
Salt of the Earth
Miss You
Fire And Rain
Up on the Roof
Peaceful World
Pink Houses
Disc 3:

I Want Love
Mona Lisas and Mad Hatters
Your Song
I'm Down
Lonely Road
From a Lover to a Friend
Yesterday
Freedom
Let it Be
Freedom
Comments: OK, so here it is. All the music you WANT to hear from the concert, without the stuff you don't. All in perfect digital quality, remastered, tweaked, and polished to a fine hue. 3BR does it again - did we have any cause to worry?