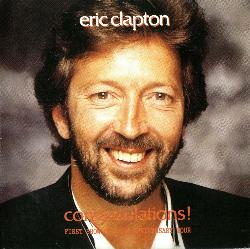 Eric Clapton - Congratulations
NEC, Birmingham - January 22, 1988 - Blues Power - BP 007/8 - Aud 5

Disc 1:

1) Crossroads
2) White Room
3) I Shot the Sheriff
4) Wonderful Tonight
5) Run
6) Same Old Blues
7) Tearing Us Apart
8) Holy Mother
Disc 2:

1) Badge
2) Let it Rain
3) Cocaine
4) A Remark You Made
5) Layla
6) Behind the Mask
7) Sunshine of Your Love
8) Money For Nothing
9) Further On Up the Road


Note: After a somewhat lethargic version of Cocaine (albeit with a nice intro by Nathan), the band performs a long version of "A Remark You Made", which is unusual in that EC plays guitar throughout the majority of the song. At many, if not most, performances, EC would step back and allow the band to play alone during the song. The show also contains a supercharged version of Layla - hot solos! Also features Mark Knopfler on guitar.