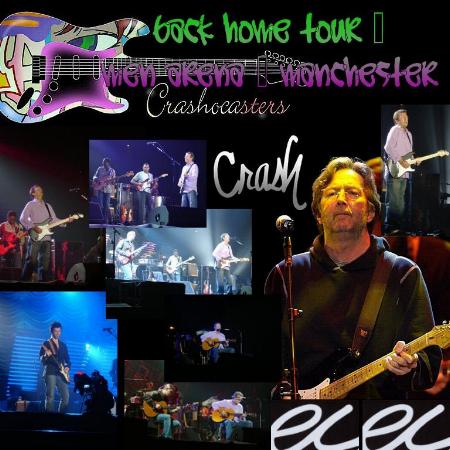 Front Cover
Back Cover
Eric Clapton - MEN Arena
Manchester, England - May 9, 2006 - CD-R2 - Aud 3
Disc 1:
Pretending
So Tired
Got to Get Better in a Little While
Lost and Found
I Shot the Sheriff
Anyday
Back Home
I Am Yours
Nobody Knows You
Milkcow's Calf Blues
Running on Faith
After Midnight
Disc 2:
Little Queen of Spades (inc.)
Everybody Ought to Make a Change
Motherless Children
Wonderful Tonight
Layla
Cocaine
Crossroads
A listenable but otherwise poor audience recording - lots of compression/distortion on transients leaves this one a little too crunchy for the average person to put on for just a fun listen. Nice horn lines on the performance of "Anyday". Inferior to the ARMS release Anyday. The interesting thing about the title and artwork for this release, is that EC did *not* play his custom "Crash" artwork guitars on this tour!