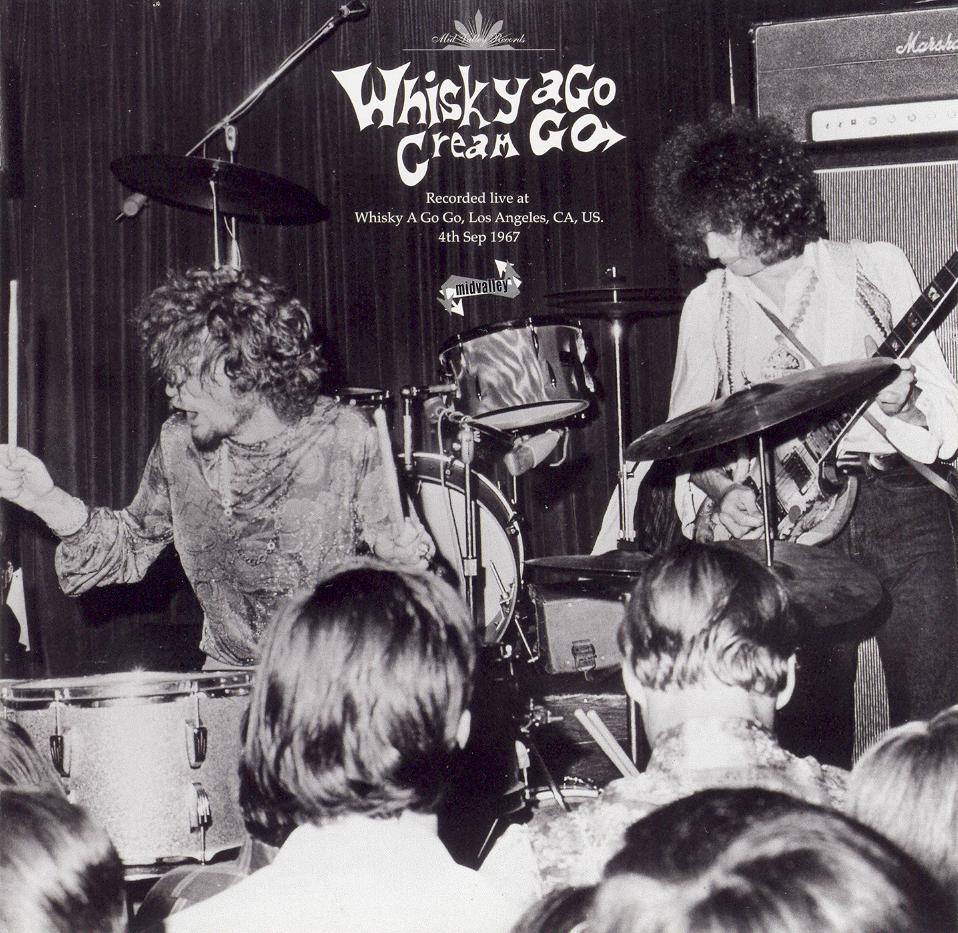 Front Cover
Front Inside
Back Cover
Back Inside
Cream - Whiskey a Go Go
Los Angeles, Ca. - September 4, 1967 - Mid Valley 365/366 - TBA
Disc 1:
Opening
N.S.U.
Tales of Brave Ulysses
Sitting on Top of the World
Sweet Wine
Rollin' and Tumblin'
Disc 2:
Opening
Spoonful
Sunshine of Your Love
Sleepy Time Time
Stepping Out
Train Time
Toad
I'm So Glad
Shortly after this original Mid Valley release was torrented, a Fan Remastered version of the MV title was also released. In a blind poll using mp3 samples, the members of the ClaptonBoots group preferred the original Mid Valley release to the remaster, 63% to 37%.

You can check out samples from this original Mid Valley Release here:

Original Mid Valley - Sample #1
Original Mid Valley - Sample #2

The person responsible for the "remaster" did not take the time or consideration to in any way change the length or format of the MV release, or in any way differentiate the "remaster" from the original. This is a problem as many common tools used to identify CD titles, for example the Gracenote CD Database (used by iTunes), use track timing to determine the identity of a disc. In this case, both the original Mid Valley release and the remaster appear to be the same CD set to the database, so the end user has no way of accurately and conclusively determining which version of the recording they have encountered. This is yet another example of how someone well-meaning can quite casually generate real confusion in the trading community.

Now for the good news, if one has available the original torrented files in FLAC format (always the best way to share/trade music), the original vs. the remaster can easily be identified by the FLAC Fingerprints, in this case keyed to the original Mid Valley release.

Further Review pending.