Crossroads Guitar Festival - 9CD Set
Dallas, Texas - June 6, 2004 - CD-R9 - SB 4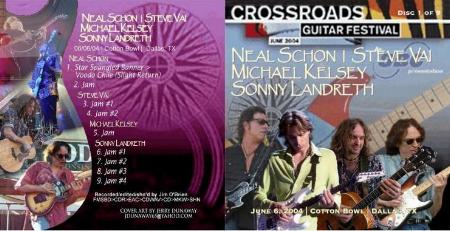 Front Cover
Back Cover
Disc 1:
Star Spangled Banner > Voodoo Chile
Jam
Jam #1
Jam #2
Jam
Jam #1
Jam #2
Jam #3
Jam #4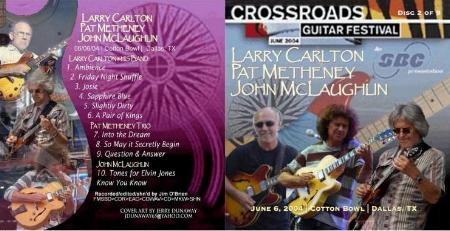 Front Cover
Back Cover
Disc 2:
Ambience
Friday Night Shuffle
Josie
Sapphire Blue
Slightly Dirty
A Pait of Kings
Into the Dream
So May it Secretly Begin
Question and Answer
Tones For Elvin Jones
You Know You Know
Tracks 1-6; Larry Carlton. Tracks 7-9; Pat Metheny Trio. Tracks 10-11; John McLaughlin.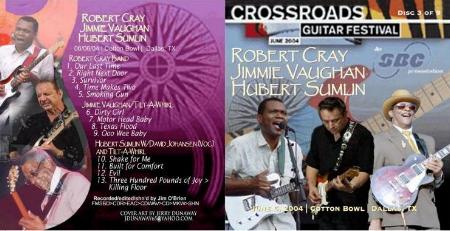 Front Cover
Back Cover
Disc 3:
Our Last Time
Right Next Door
Survivor
Time Makes Two
Smoking Gun
Dirty Girl
Motor Head Baby
Texas Flood
Ooo Wee Baby
Shake For Me
Built For Comfort
Evil
300 Pounds of Joy > Killing Floor
Tracks 1-5; Robert Cray. Tracks 6-9; Jimmie Vaughan. Tracks 10-13; Hubert Sumlin w/ David Johannsen (Vocals).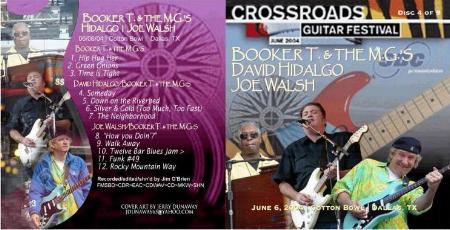 Front Cover
Back Cover
Disc 4:
Hip Hug Her
Green Onions
Time is Tight
Someday
Down On the Riverbed
Silver and Gold (Too Much, Too Fast)
The Neighborhood
"How You Doin?"
Walk Away
Twelve Bar Blues Jam
Funk #49
Rocky Mountain Way
Tracks 1-3; Booker T and the MG's. Tracks 4-7; David Hidalgo w/ Booker T. and the MG's. Tracks 8-12; Joe Walsh w/ Booker T. and the MG's.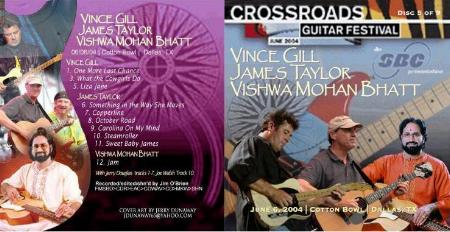 Front Cover
Back Cover
Disc 5:
One More Last Chance
Oklahoma Borderline
What the Cowgirls Do
Nothing Like a Woman
Liza Jane
Something in the Way She Moves
Copperline
October Road
Carolina On My Mind
Steamroller
Sweet Baby James
Jam
Tracks 1-5; Vince Gill. Tracks 6-11; James Taylor. Track 12; Vishwa Mohan Bhatt.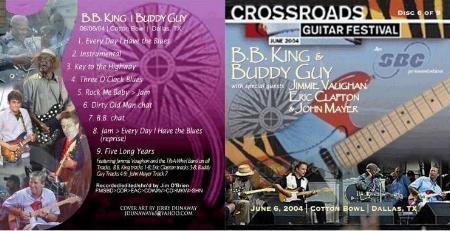 Front Cover
Back Cover
Disc 6:
Every Day I Have the Blues
Instrumental
Key to the Highway
Three O' Clock Blues
Rock Me Baby > Jam
Diry Old Man Chat
B.B. Chat
Jam > Every Day I Have the Blues
Five Long Years
All tracks feature Jimmie Vaughan and the Tilt-a-Whirl Band. BB King on Tracks 1-9; Eric Clapton on Tracks 3-8; Buddy Guy on Tracks 4-9; John Mayer on Track 7..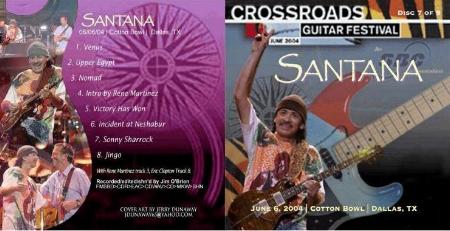 Front Cover
Back Cover
Disc 7:
Venus
Upper Eqypt
Nomad
Intro by Rene Martinez
Victory Has Won
Incident at Neshabur
Sonny Sharrock
Jingo
The Carlos Santana Band; with Rene Martinez Track 3; Eric Clapton Track 8.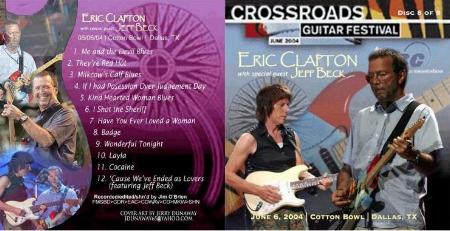 Front Cover
Back Cover
Disc 8:
Me And the Devil Blues
They're Red Hot
Milkcow's Calf Blues
If I Had Posession Over Judgment Day
Kind Hearted Woman Blues
I Shot the Sheriff
Have You Ever Loved a Woman
Badge
Wonderful Tonight
Layla
Cocaine
'Cause We've Ended As Lovers
All tracks; Eric Clapton; Track 12 w/ Jeff Beck.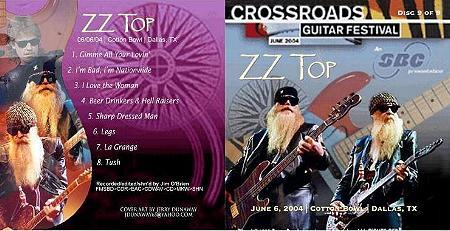 Front Cover
Back Cover
Disc 9:
Gimmie All Your Lovin'
I'm Bad, I'm Nationwide
I Love the Woman
Beer Drinkers and Hell Raisers
Sharp Dressed Man
Legs
La Grange
Tush
All tracks; ZZ Top.
Geetarz Comments:
This 9CD set is sourced from the live broadcast of this performance on Sirius Satellite Radio. Unfortunately this broadcast was poorly mixed, resulting in very uneven sound quality, for instance at times with vocals sounding like audience recordings while certain instruments sound completely close-miked. The worst problem with the broadcast was the low bitrate and lossy compression used, which resulted in tons of upper-end compression artifacts which really mar the performances and are very distracting. Recommended simply because this is at least the entirety of the day's performances, but with strong reservation because of the poor sound quality.