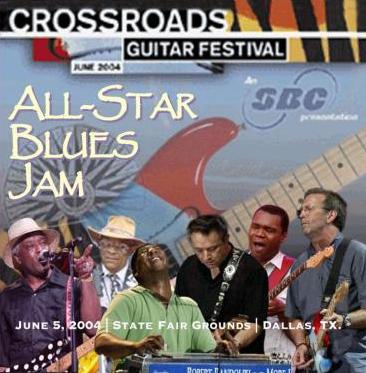 Front Cover
Back Cover
Eric Clapton and Friends - All Star Blues Jam
Dallas, Texas - June 5, 2004 - CD-R1 - TBA
Track List:
The Dirty Girl - Tilt-A-Whirl and Jimmie Vaughan
Five Long Years - Eric Clapton
The 12 Year Old Boy - Robert Cray
Killin' Floor - Hubert Sumlin w/ Robert Cray Vocals
Going Down Slow - Eric Clapton
Sweet Home Chicago - Buddy Guy
My Time After A While - Buddy Guy
Six Strings Down - Jimmie Vaughan
Early in the Morning - Eric Clapton
Hoochie Coochie Man - Buddy Guy
This CD set is sourced from the live broadcast of this performance on Sirius Satellite Radio. Unfortunately this broadcast was poorly mixed, resulting in very uneven sound quality, for instance at times with vocals sounding like audience recordings while certain instruments sound completely close-miked. The worst problem with the broadcast was the low bitrate and lossy compression used, which resulted in tons of upper-end compression artifacts which really mar the performances and are very distracting. Recommended simply because this is at least the entirety of the Blues Jam performance, but with strong reservation because of the poor sound quality.