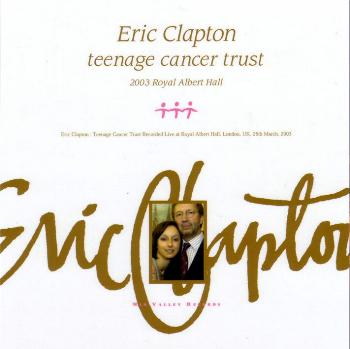 Eric Clapton - Dry Your Eyes
London, England - March 25, 2003 - Mid Valley 183/184 - 50:07/45:49 - Aud 4

Disc 1:

Knock on Wood
Reconsider Baby
Can't Judge a Book
Blueberry Hill
Sweet Little Rock and Roller
Stormy Monday
Paradise (Is Half as Nice)
Good Golly Miss Molly
You Win Again
Got My Mojo Working
Hoochie Coochie Man
Disc 2:

Whole Lotta Shakin'
Gin House
Five Long Years
Cocaine
Happy Birthday Billy - Whiter Shade of Pale
Layla
Queenie
Comments: The third annual charity concert series held at the Royal Albert Hall, London to benefit the Teenage Cancer Trust. For more information about this worthwhile organization, please visit their official website at teencancer.org. The Mid Valley release is a bit more boomy and with the track break in a different place than the other audience recording of this show.